We are sharing some important information to help you prepare. Stay tuned for updates during the conference! Can't find what you're looking for? Feel free to contact us at
hello@craft-conf.com
, on social media, Hopin or just wave at us 👋
How to join Hopin?
As you might already know Craft Conference is back in hybrid. This means that the online part of the conference is going to happen on Hopin. How can you join Hopin? On June 2 keep tracking your email as you are going to get your so-called Magic Link with the title 'Your online ticket for Craft Conference 2022' which lets you enter the online scene.
Meetups
Free meetups (May 30 - June 01)
At different locations - Check out the list of meetups HERE
Workshops
Workshops (May 31 - June 1)
The workshops are happening at different locations and not at the venue of the conference! Ticket holders are going to receive an email with all the important information on May 27 (Friday) at 3 PM CEST.
Check out the list of our workshops HERE
Conference (June 2-3)
Venue
Magyar Vasúttörténeti Park / Hungarian Railway Museum
1142 Budapest, Tatai út 95. (Google Maps)
Wondering where the talks happen and when? Check the schedule!
You can find the map of the venue below, feel free to save the picture!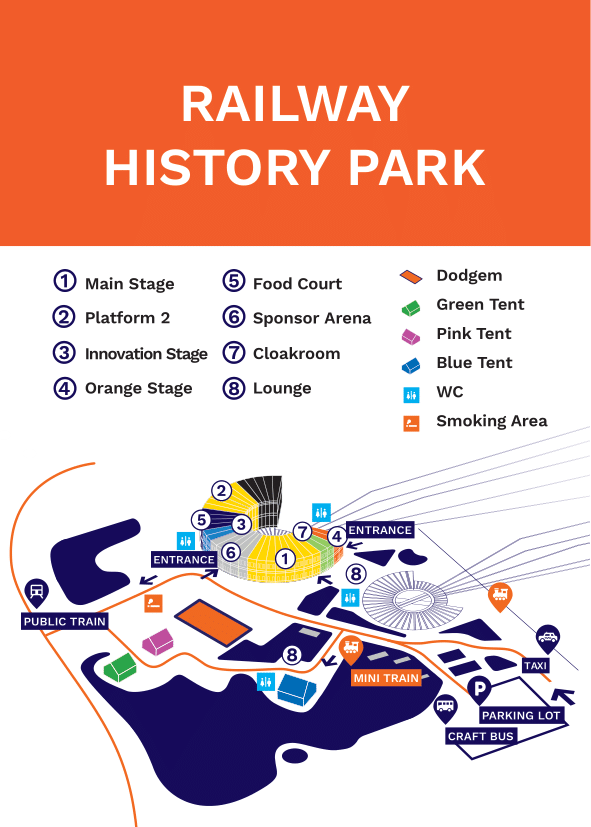 Food
Day 1 // Breakfast, artisan coffee, lunch and dinner are provided
Onsite networking night with free drinks sponsored by EPAM after the talks
Day 2 // Breakfast, artisan coffee and lunch are provided
Wifi
SSID: CraftConf
Password: WelcomeBack
You can find many food options at Craft Conference. Would you like to know more about the menu?
Are you worried that you might not find something to eat because of your food allergies/special diet? Don't worry, go to the CraftHub booth and ask the staff about the different possibilities.
Transport to and from the venue
🚂 Coming by train?
Look for the Craft beach flags to find the train. You can buy train tickets at Nyugati Railway Station from the yellow ticket booths or online from the official site of MÁV. If you already have a BKK pass (public transportation pass), you do not need a separate ticket for the public train (only passes though, since BKK tickets are not valid on trains).
Public trains departing to Esztergom (train number G72 and Z72) will have a stop at our venue ('Vasútmúzeum' station). The journey takes about 9 minutes. See the departure times below!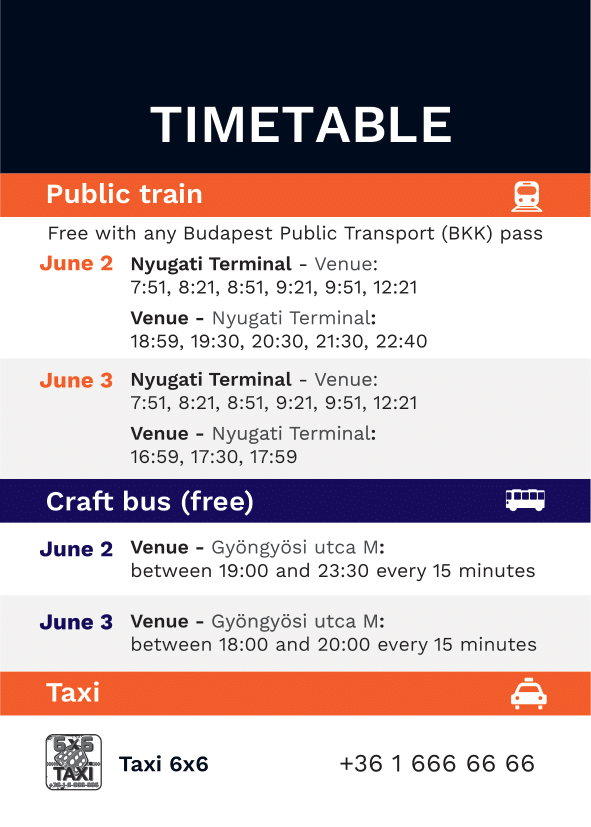 🚌 Hopping on the free conference bus?
Leaving the conference in the evening? Come to the parking lot for a free bus ride. The journey takes about 15 minutes from the venue to Gyöngyösi utca (M3 underground station), see the departure times below.
🚗 Driving here on your own?
No worries, parking is free in the museum's parking lot.
🚕 Want to take a taxi instead?
Call 6x6 Taxi at +36 1 666 66 66 or find them at the front gate marked on the map on evenings. You can find the timetable of the train and bus below, feel free to download the picture
Hungarian COVID-19 regulations
Are you coming from abroad? Not sure about the different regulations? Do not worry! Hungary has no regulations as for the moment. There is no compulsory mask wearing and you can travel freely without bedding any certification. Despite all of this, we are preparing with masks, sanitizer stations and medical service.
To get all the necessary information about regulations in Hungary concerning COVID-19, make sure to check https://visithungary.com/category/covid-19-information so that you can stay up-to-date.
Registration
Registration is open on Thursday from 8am at the conference venue. Arriving later? Don't worry, you can check in at the infopoint after the official registration hours.
Please download your ticket in PDF (or into the Apple Wallet) and print it or show it on your phone at the check-in! You can do this by clicking on the "VIEW TICKET" button and scrolling down to the bottom of the page! Please have your ID/passport with you in case we need to look you up in the system.
Make sure you receive your conference badge with your name that is mandatory for entering the premises on both days. The conference badge cannot be replaced - especially not on the second day of the event, and without it you cannot enter the conference. Please wear it at a visible place at all times.
We'll provide cloakroom for free.
Join our free onsite workshops
You can join exciting and groundbreaking workshops for free at the venue. Register now and make sure you have your place!
Passwordless authentication in practice - free onsite workshop by Nevis Security
Location: Center sponsor area
Time: June 2 11:35-12:05 // 12:05-12:35 and June 3 13:10-13:40 // 13:40-14:10
Working with Local Kubernetes Clusters - free onsite workshop by Diligent
Location: at the 3rd floor workshop room
Time: June 2 13:45-14:45
How to train your graph, a.k.a. how we optimised our freight routing solution at scale - free onsite workshop by TESCO Technology
Location: Center sponsor area
Time: June 2 13:45-14:15 and June 3 14:15-14:45 //
Scaling observability up to 1M samples/sec from the comfort of our homes - free onsite workshop by TESCO Technology
Location: Center sponsor area
Time: June 2 14:15-14:45 and June 3 14:45-15:15 //
Feature testing beyond borders: how to make sure our app works as expected at any point of the world - free onsite workshop by TIER Mobility
Location: Center sponsor area
Time: June 2 14:55-15:25 // 15:25-15:55 // 15:55-16:25 // 16:25-16:55
3D Visualization and Computation for Climate-Resilient Cities -free onsite workshop by greehill
Location: Center sponsor area
Time: June 2 17:00-17:20 // 17:20-17:40
Safety critical AI in automated driving - free onsite workshop by Continental Artificial Intelligence Development Center
Location: Center sponsor area
Time: June 3 10:10-10:40 // 10:40-11:10 // 11:10-11:40 // 11:40-12:10
Share the vibe
Post and tweet about us with the hashtag #CraftConf and let your friends know about your attendance in our Facebook event.