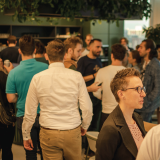 Craft Pre-conference DDD Meetup
Do you remember what a great time we had with Nick Tune at previous Craft pre-conference meetups? Well, good news, this year right before Craft conference we are going to have Domain-driven Design flavored meetup again aaaand not just with one but with two star guests this time:
NICK TUNE and JACOPO ROMEI.
I cannot tell how much I'm looking forward to having these 2 great people here :)
Also, there will be a surprise too for those ones who haven't bought their conference tickets yet, so don't miss the opportunity!
Venue, topic and agenda to follow, but I just wanted to make sure everyone saves this date in their calendar, that's why announcing the meetup now. So you have enough time to sweap out all your meetings and everything else from 16th of May :)
See you there!